I am blessed to know Christie Ellinger who is both my friend and accountability partner. I initially met her while transitioning from mortal agony and poor mobility to being a vibrant woman who could dance and lift things as she pleases. She's also someone I can be completely honest with, which is why I was delighted she joined me today to talk about how to get away from it all – the noise and smells of the city, the bombardment of digital media (which I appreciate this episode counts amongst it), and the fast pace of our modern lives. This episode has loads of tips and tricks on camping – her ideal get away – and we cover everything from how to make your own cooler to how to pee and pop in the woods (the honesty part makes more sense now, doesn't it?).

"My grandparents had a cottage so my parents and I did lots of hiking, fishing and boating when I was growing up – I was exposed to camping by being a Girl Guide and had a best friend whose family camped and took me on a few trips. … Being out in the middle of nowhere is amazing.

Being in the backcountry is like a reset button for me – being in tune with the natural rhythm of sunrise and sunset, being able to clearly see the stars at night because there is no light pollution, being grounded literally by living on the land sleeping, cooking and sitting on the ground, and moving your body a lot to travel from one place to another and survive without modern conveniences" – Christie Ellinger
Her Recipe
Christie has been following a tried and tested recipe for Bannock. She says, "Bannock is one of our favourite staples because the ingredients are simple, it packs small, and is easy to switch up with different additions like cheese or dried fruit. We will make it at home too when looking for something different for breakfast or feel like something sweet without the work of baking cookies."
You can find the whole recipe on Week by Week »
About Christie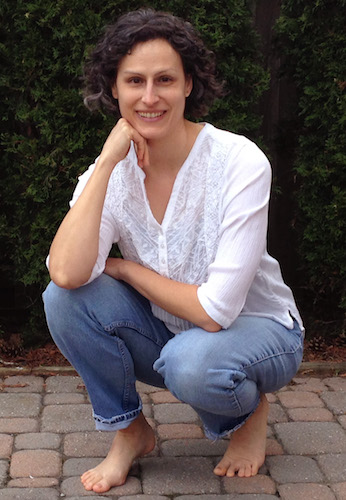 Christie Ellinger is a body geek, nature nut, and lover of all things movement and food. After studying and working in Environmental Management for 14 years, she made a career change in 2008 to teach Pilates and Integrated Movement Therapies at her own studio and eventually evolved into a Movement and Healthy Living Coach.
Christie is passionate about inspiring and educating women who are tired of being tired and stressed, and struggle to find time for exercise and eating well, to think outside box. She believes we all possess the power to make simple and lasting changes that allow you to live a happy, healthy and dynamic life – it starts with creating awareness about who you are, where you are, and what you want to achieve. Her mantra "move freely, breathe easy, and live fully" is not always easy to live by but serves as a great reminder to keep things simple, live life on your terms and appreciate everything it has to offer.
When she's not enjoying the great outdoors, Christie can be found tending to her veggie garden, looking for trees or playgrounds where she can climb and hang (who says playing is just for kids?), or indulging in a little Netflix and dark chocolate on a lazy rainy day.
Her Camping Tips
I am so excited to share all the amazing information Christie had prepared for this episode – so much of which we didn't even talk about in the episode.
The following is directly from Christie's notes, for which I am grateful:
Being out in the middle of nowhere is amazing. Not only do we have this beautiful country to explore but seeing it from the surface of the water is a really cool perspective – you can go so many places and see things that you can't with hiking or a in regular boat, and you can go much further afield than a canoe would allow you to go.
Being in nature is so good for us!
There are a number of studies over the last several years that show being in nature (e.g. forest bathing), even for just a short period, has a significant effect on our mental, emotional and physical health and well being.
Cognitive function: short term memory, attention, mental fatigue, ADHD, creativity
Mood disorders: chronic stress, depression, anxiety, self-esteem
Physical: cardiovascular function, reduced blood pressure, lower levels of inflammation, the variety of terrain and elevation while hiking provide different loads to your muscles and joints, exposure to sunlight (vit D, heliotherapy), improved digestion from walking
Immune function: exposure to phytoncides (essential oils) from trees enhance natural killer (NK) cell activity which has been reported to kill tumor or virus infected cells
Eye health: 1) distance-looking is so important today with all the time we spend indoors and looking at devices close-up – our eye muscles don't get the "work-out" they need if you're just looking at things close-up all the time – it's good to look at things in the distance regularly so the eye muscles work through their full range – 2) the number of kids with myopia (nearsightedness) is increasing – recent studies have found more time spent outdoors significantly reduces the probability of myopia onset in children (the researchers aren't sure why yet, suspect it could have something to do with light exposure and/or vitamin D)
8 scientific reasons you should be spending more time outside
But you don't need a scientific study to know all this, you can feel the positive effects yourself. Being in the backcountry is like a reset button for me – being in tune with the natural rhythm of sunrise and sunset, being able to clearly see the stars at night because there is no light pollution, being grounded literally by living on the land sleeping, cooking and sitting on the ground, and moving your body a lot to travel from one place to another and survive without modern conveniences by setting up and taking down camp, gathering and filtering your own water and doing your business in the woods. Not to mention being immersed in the beauty of nature – humans are part of nature but we often think of ourselves as something separate from it, that it's something we control but really we are just one of the millions of creatures that inhabit the earth.
And even more important is that our modern and sedentary lifestyle today is not a normal way for humans to function – our bodies are configured to be chronically active in order to perform the necessities of daily life like travelling, getting food and water, and playing – it's when we adopt a sedentary life that our bodies end up with health issues and disease.
It's really important to note that you don't need to go backcountry camping to reap the positive effects of being outside in nature that we just talked about. Simply spending time outside in a park with trees or taking a walk on a local hiking trail is good for you.
Taking the kayaking courses taught us so many skills that are really important to have fun and do kayak tripping safely – what equipment you need, paddle strokes to maneuver your boat, rescues including wet exit and reentry because the question isn't IF you will tip over but WHEN, trip planning, navigation, risk management like go or no-go decisions based on weather and marine conditions, what to do in case of emergency, and how to load your boat with all of your gear.
Camping skills and Eating at Camp
How you camp in the back country is a little different than car camping at a park so the course showed us what equipment works best, what food to bring, camp kitchen safety, sanitation and waste handling, food storage. We also took wilderness first aid training because some of the protocols are a little different in the backcountry when emergency assistance could be hours or a day or more away.
We eat so well when we are on a trip – because we travel by boat we can bring fresh food that would be difficult to carry in a backpack if you were hiking. You don't need to starve or eat those dehydrated food mixes you see in the outdoor stores, which are really expensive and don't taste all that good. We pack a lot of fresh food like veggies, fruit, cheese, eggs, hummus, butter, soft tortillas, and a bit of meat like chicken, which is eaten the first night at camp.
Some fresh food travels really well without spoiling for a 7-14 days – like carrots, potato, sweet potato, onion, garlic, squash, apples
Some food can travel well but only last 4-6 days depending on the temperature like cheese, eggs, mini cucumbers, grape tomatoes, oranges, bell peppers
And other foods are really do well in the first 1-3 days like bananas, zucchini, mushrooms, broccoli, cauliflower, and greens for salad
We supplement fresh food with food that keeps well like nuts and nut butter, rice, oats, flour, packages of beans, soup, tomato sauce or diced tomatoes, dried pasta, canned meat like tuna, dried mixes of hummus, falafel and tabouli, crackers, nut and fruit bars (e.g. Larabar), and dried meat like jerky…and of course I can't forget about dark chocolate and cookies
For breakfast we might have scrambled eggs or an omelet with bacon on the side (my husband gets the pre-cooked stuff for a treat), oatmeal, cold cereal like granola with almond milk, a piece of fruit with a handful of nuts, or one of our favourites is bannock with cheese.
Lunch is usually something easy like pieces of cheese, crackers or tortillas wraps, veggies like cucumber, grape tomatoes and carrot sticks with hummus, jerky, or sometimes we'll make soup.
Dinners will include things like veggie stew with dumplings, stir fry with chicken, pasta with tomato sauce, falafel with hummus and tabouli, or a maybe pre-made heat-and-serve Indian sauce packet with veggies and rice.
We plan our meals so that perishable food is eaten in the early days of a 3-5 day trip and reserve the non-perishable dried and packaged food for the later part of the trip. We plan to make just enough servings for each meal so there is no food waste and no leftovers (which can't be stored). For storage, we use a lot of zip lock bags and reusable plastic containers with locking lids to portion out each meal before the trip. And we always pack a bit of extra non-perishable food just in case we get weather bound and can't make it home on the day planned.
Homemade cooler bag
For the more perishable food like cheese, butter, hummus, and meat we use a thicker poly dry bag that we cover with a wet towel and place in the shade when in camp – the last time on a trip we experimented with lining the inside of the bag with this foil bubble wrap insulation that's used in home construction and it worked pretty well at keeping things cooler.
Potable Water
When we travel in Ontario we are paddling in fresh water so we use a water filtration system that allows us to gather water and filter it for drinking and cooking. Our preferred water treatment is a gravity system so it has a bag where you collect the water that connects to a carbon filter below and the water travels through the filter into a clean storage bag or bottle – important to filter out biological stuff like Giardia that can make you sick.
If you're on the ocean you have to pack fresh water unless you know of a fresh water source available during your trip – we've only done day trips on the west coast but I know for multi-day trips you need to pack 4 L per person per day.
Recommended Gear
In order to maintain a clean food prep area when in camp we use a lightweight 2×1.5 ft table that collapses down and can be strapped to the top of a kayak when in transit. We also have small lightweight camp chairs that collapse down and can be carried inside or on top of the boat – as much as I like to squat and sit on the ground, if it's wet or cold a chair is actually a good thing because it keeps you dryer and warmer and is simply more comfortable sometimes when you've had a long day.
Our favourite camping gear is:
MSR or Platypus gravity feed filtration system

MSR dragon fly camp stove

GSI Macro Table

Helinox Chair One
Rest & Relaxation
When we travel it's about spending time together, enjoying the outdoors, and just having fun. What we eat on a trip is pretty much what we would eat at home with the exception of bringing a bit more packaged food items because they last longer…and adding some extra treats.
As for entertainment, we bring a book or e-reader for bedtime, a pack of cards, and a mini travel game like checkers, backgammon or chess. But nature is pretty jammed packed with things that keep you occupied like the landscape and animals we see – I am a nature nut and am super happy to just observe and experience what is going on around me.
And you need to be aware of what's happening around you for safety – we usually travel in bear and rattlesnake country and the weather and marine conditions can change quickly so it's really important to be in tune with what's happening around you.
Back country toilet tips
Always have a toilet bag that includes hand sanitizer, toilet paper (ideally plain, white, no perfume), a trowel to dig a cathole, feminine hygiene stuff like pads and tampons (just in case and they can serve as backup first aid supplies), and a few ziplock bags in case you have to pack out your waste.
Look for an area away from where people would walk or hang out and is a good distance away from the water. You can pee pretty much anywhere, apparently urine it doesn't really affect the soil or vegetation, but for the ladies when you squat to pee make sure the ground slopes down away behind you and your feet and pants are out of the way!
For a poop you need to dig a cathole 6-8" deep and 4-6" wide at least 200 ft (about 70 steps) away from water, trails and camp – or collect it and pack it out. I recommend marking the spot with a X-shape from twigs so you know not to step there the next day.
Some of the more popular island spots around Georgian Bay where kayakers like to camp are equipped with a thunder box courtesy of the Great Lakes Sea Kayak Association which has a group of volunteers that install and maintain the boxes in order to maintain the integrity of the natural environment. A thunder box is a basically like an outhouse without the house part – you have a wooden box with a hole in the top that you sit on and the box it's placed over a hole in the ground usually in a treed area which provides quite an amazing bathroom window vista.
Want more details?
Christie is currently on a digital detox from social media.