In today's episode on More Than Good Food Meaghan Jackson shares her experience raising three boys. While breastfeeding is a very personal choice, Meaghan shares her challenges and unexpected journey with allergies.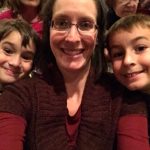 About Meaghan Jackson
As you'll hear, Meaghan is a mother to three active boys. In addition to homeschooling them, she helps to run their family business, is a consultant for Norwex and Young Living, and a blogger. You can read more about her story at Joyful Mud Puddles.
Her Recipe
Here is an easy snack recipe that Meaghan got from her friends at the Waldorf School.
"We use Sunbutter instead so you could easily call it something else. I also substitute whatever nuts or seeds I happen to have in the cupboard to equal the amount needed."

Almond Butter Drops
1/2 c. raw almond butter

3 T. honey
1/3 c. finely chopped nuts
1/3 c. raw sunflower seeds
1/3 c. shredded coconut
2 T. sesame seeds
In mixing bowl stir almond butter and honey together; stir in remaining ingredients.

Drop by rounded tablespoons into a 9X9″ pan. Freeze. Cut into squares and serve.
Want more details?
You can also get in touch with Meaghan on Facebook @CleaningJoyfully where she shares deals for Norwex – environmentally friendly cleaning products to improve the quality of life by radically reducing chemicals in your home.
Note – I receive no financial compensation for any purchases made from Norwex. However, I am personally an avid user of their products.