Eating healthy can be expensive because the cost of meat and fresh produce has gone up so significantly in recent years. However, it really doesn't have to be that way. As we head into warmer weather, you can still eat healthy and cut your grocery bill. Here are 7 simple strategies to eat well on a shoestring budget.
#1 Plan ahead.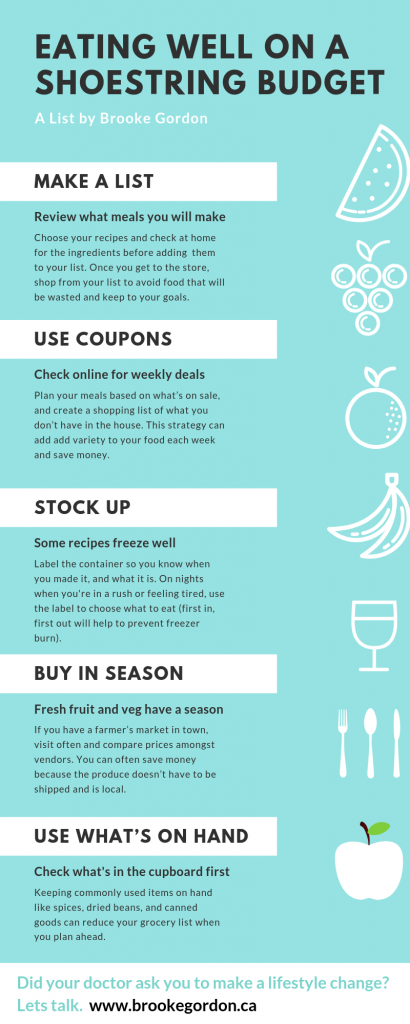 You know this is my mantra! There's nothing worse for the budget than going to the grocery store for tonight's dinner. You're tired, rushed and probably hungry, so you're likely going to buy whatever is easiest. This isn't cost effective. Instead, plan ahead.
Check your calendar so you know what events or other meals you'll be attending, and make a list of the breakfast, lunch and dinner meals you need to prepare for the week. Choose your recipes and make sure you have all the ingredients. If not, add them to your list. Once you get to the store, shop from your list. If you add other items to your cart, take time to think about when you'll eat it, and if it makes sense to do so. You want to avoid buying food that will be wasted.
#2 Use coupons.
Coupons are often found in the newspaper or online. Before you make your weekly shopping list, grab a copy of the store's weekly flyer. Use the ad to plan your meals based on what's on sale, and create a shopping list of what you don't have in the house. For example, if apples are on sale this week, then you could plan for apples in your salad or as a snack with nut butter. Or maybe apple and kale smoothies for breakfast and a baked apple cobbler with homemade pie spice for dessert.
#3 Stock up.
Many things freeze well. In our house, I really like sourdough bread but my spouse does not. I won't finish one loaf before it goes moldy, so I ask the baker to slice my fresh loaf. Its easier to separate once frozen and tastes delicious toasted from frozen. We will also make a batch of chili and freeze two portions. It's a comforting dish for those days when you are in a rush or feeling exhausted and don't want to cook.
You can save tons of money each month if you stock up on sale items and freeze them. Cuts of meat often go on sale too. Buy in bulk or the large family packages. You can separate them at home into smaller meal-sized portions and place them in freezer bags.
Label the container so you know when you bought it and what it is. We then use the date to choose what to eat in a given week (first in, first out).
#4 Get to know the butcher and fishmonger.
Often, you can save on some cuts of meats and fish if you buy them from the local butcher or fishmonger, and you get get the exact amount you need. You can compare prices against the grocery store. This is especially true for bones and off-cuts to use in homemade soup stock.
#5 Visit the farmers market.
Fresh produce tastes wonderful. If you have a farmer's market in town, visit often and compare prices amongst vendors. You can save money because the produce doesn't have to be shipped and is local.
Our open air market in Waterdown, Ontario runs from May to October but there is a year-round indoor market nearby that has 1-hour free parking (with validation). Check online to find out what options are near you.
#6 Buy what's in season.
If you're trying to buy apples in May you're going to pay more for them than in August and September when they are in season. Buy your fruits and vegetables when they are in season. Go to your local municipal government website to find out what's in season each month.
#7 Use what's on hand.
This week I defrosted meat from the freezer, used tomatoes I had jarred last summer, and added spices and rice from the cupboard. All I needed to finish the meal was a bag of onions, a lemon and ingredients for a fresh salad. Our grocery bill was the lowest it's been in months. The effort of meal planning pays off in the end.
Final thought.
With a little advanced planning and an eye for bargains, you can feed your family whole and delicious food, and still save money. Pay attention to what's on sale and use coupons. Make a list to stick to what you need, and buy in bulk for more expensive food like cuts of meat.